Schools in New Zealand, Australia and Fiji are taking measures to address the spread of the coronavirus among the pupils and people they are in contact with. The schools and universities in the worst-affected areas in part of the world have also closed to prevent further infections among their students' population.
Many people are calling for schools to close. A Twitter thread hashtagged #CloseTheSchoolsNow because of coronavirus had gone viral in Australia.
In PNG, some concerned people are asking 'will schools close because of coronavirus'. Make no mistake, the virus is spreading fast, but there is NO detection/case of coronavirus infection in the country. Everyone needs to be vigilant.
Read the latest post on PNG Insight Blog re. School School Closure in PNG.
The important message, circulating at present, is preventing the spread of the coronavirus among students and teachers. And importantly, schools and local communities must take the duty-of-care towards children and the elderly seriously.
Schools closed because of coronavirus – Australia
Major news reports indicated that schools in Japan, the US, the UK and the Pacific are either closed or are taking preventative measures to contain the spread of the coronavirus among children.
The Nine News reported that two schools have shut down in Australia due to confirmed cases of coronavirus among their students, (St Patrick's Marist College and Willoughby Girls School (Coronavirus shut down, Nine News)
Presently, there are NO cases of confirmed coronavirus affected person in PNG schools. And no school has been shut down due to coronavirus in PNG either. A fake online map indicated a red mark on PNG. It is not true and there is no reason to believe it.
Unless the local PNG health authorities mentioned a case of coronavirus infection in PNG, there is no need to panic.
No PNG school closed
Students are going to schools and teachers are teaching. Many parents and stakeholders may think that shutting schools is overreacting.
However, it is better to be safe than sorry. Schools should have contingency plans in place. That means that the school Board and managers should have a 'list of things to do' if/when there is a corona-case detected nearby.
Planning for school shutdown should be happening:
what to do in cases of infection in school,
how to keep the learning going after school closure and
how long to shut the school.
Coronavirus safety measures
There are certain prevention measures individuals can take to make it safe for themselves and others around them. This includes:
washing hands thoroughly – refer to the hand-washing technique below
keeping your distance from others – recommended 1 to 2 metres apart
avoid using publicly shared items like lime/kambang and especially money notes and coins – resort to using bank cards as much as possible at this time
limit attendance to public gatherings and public places where there is a large number of incoming and outgoing traffic such as airports and bus stops.
Above all, look out for each other, the elderly and children.
PNG Schools be worried because of coronavirus
Surely. Any widespread infection among the population is a course for concern. PNG schools should be worried, but not scared. Apparently, there is no need to rush to the shops and fight over toilet papers or shut schools down just because there is a case of cold flu in the school.
As mentioned, close schools and limit exposures to public gatherings IF there is a clear case of the viral coronavirus infection in the local area in PNG.
But, schools must not close because of rumours.
Life must go on as normal for now.
Online learning for students
At this time there is no recommendation for closing schools in PNG or the smaller Pacific Island countries with no case of coronavirus infections. However, many schools in the worst-hit areas in the developed economies are turning to online learning.
In the event schools close because of coronavirus, the closure can either be short-term or indefinite. Short term closure would require thorough cleaning and disinfecting of the schools (and institutions) before students return.
The worst-case scenario is schools indefinite closure. The closure requires schools to turn to online learning by making learning programs available online for students.
Though online learning may not be ideal for the vast majority of PNG students, schools can do something to facilitate learning. That could mean that the students will have to go through self-paced learning.
Tech intervention on schools closure
Here are five possible interventions for schools to consider IF schools are instructed to close due to coronavirus infections:
Self-paced Online Learning: Create online learning and assessment programs and host it remotely for students to access (education department website) – ideal for towns and city schools
Intensive Non-contact Work Portfolios: Students provided with hard copies of termly teaching programs, assessment schedules and marking guides – ideal for schools in remote areas
Mobile Phone Contact: use mobile phone calls, texts, video conferencing, etc to connect with students
Social Media Contact: use the power of social media to connect students and teachers in the different stages of teaching and learning.
Do Nothing Approach: everyone (school, teacher, student) does nothing but goes into isolations and repeats the academic year when all is calm and settled.
Note that this is not a definite or exhaustive list. The coronavirus situation in the World could calm down quickly (as it started) and life goes back to normal. If you have any bright ideas for schools to consider, please leave a message below.
PNG Schools, communities and coronavirus watch
Remoteness and less outside contact is the best friend for PNG schools. In villages and outstations, the population have less contact with outsiders.
That makes it fairly safe.
But, many towns and cities have contact with travellers coming in from Port Moresby, Lae and other tourist hotspots in the country are among the risk group. And, they are likely to spread the virus to local communities and school children.
Having said that, the local communities need to have some kind of Community Watch for people who are travelling into the local villages and communities from the major centres.
There is no need for fear.
However, a concerted effort to contain the spread of coronavirus in villages and remote communities is urgent.
School, community, hygiene and coronavirus
Perhaps it is important to limit contact with others as a measure to prevent the spread of coronavirus if/when a case happens to surface in the country or a local area.
Meanwhile, there are basic health and hygiene practices students can do to stay safe from coronavirus in schools. Among them is washing hands with soap whilst singing "Happy Birthday to You'.
Wash you hands lyrics and infographics online
If you want to sing to your favourite song, check this brilliant website called WashYourHandsLyrics. Users type the song title/singer name and the app puts the lyrics onto the NHS handwashing infographics.
Right now the Bohemian Rhapsody is popular. Here is the hand wash lyrics for Motherland – Our Land is the Land on High Mountains.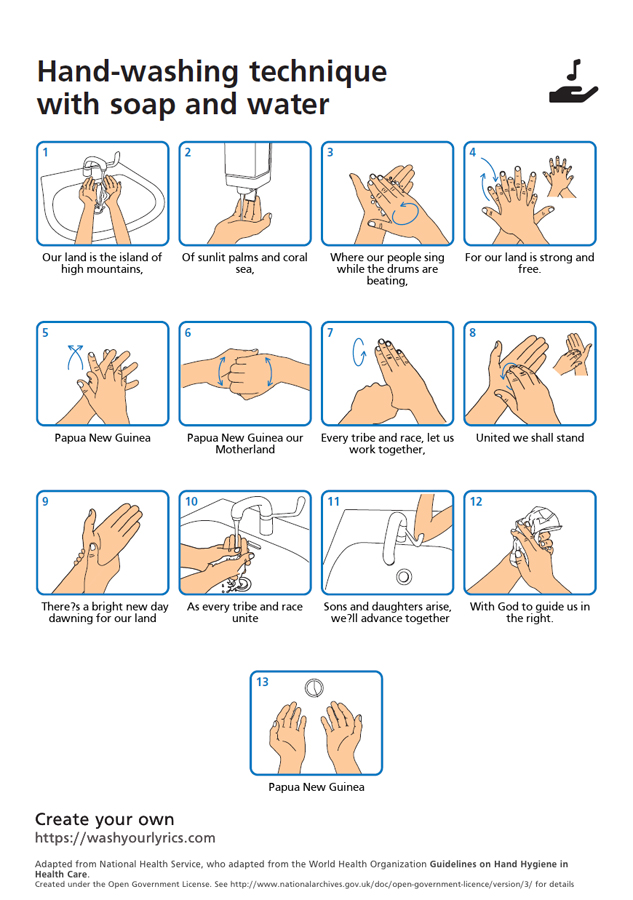 The high-risk group – kids and elderly
The coronavirus related deaths recorded are among many elderly people and school (younger) children. This group needs attention. Obviously, the elderly and young children may not be the likely group to have had vast exposure to the public and hence exposed to coronavirus.
But the elderly and children can be infected through family members or others close to them who may have had contact with the public and exposed to the virus.
Therefore, able-bodied people need to take preventative measures, seriously, to prevent any spread of the virus to their household.
It is important that everyone takes care of each other. This is the best thing to do to protect ourselves.
If you have stories on coronavirus (or wondering IF the schools will close because of coronavirus), use the contact link to get in touch with us.